Picture this: it's my first visit to Cambridge — Ground Zero of the scientific revolution, a place that's probably contributed more to human knowledge than any other on Earth. Within walking distance are the original manuscripts of Newton's Principia; the halls where Darwin, Maxwell, and Russell dined as undergraduates; the Cavendish Laboratory where Rutherford bombarded nuclei and Crick and Watson unravelled nucleic acids; and architecture dating back to the 1200's, much of it among the finest in Europe. I ought to be taking in the splendor (sorry, "splendour") by day, and blogging about it by night.
So where have I been? Hunkered in an office, trying to finish a paper with Greg Kuperberg about QMA versus QCMA in time for the Complexity'06 submission deadline. Happily, by Saturday it had become obvious that, try though we might, we weren't gonna make it. So I put it off till the next conference, and contented myself with submitting two papers to this year's Complexity conference instead of three. As Douglas Adams, another Cambridge alum, put it: "I love deadlines. I like the whooshing sound they make as they fly by."
So what can I tell you about Cambridge? First of all, when people refer to the various "colleges" — King's, Trinity, and so on — they're not just being eccentric and British. These colleges actually exist. Each one is basically a walled-off compound, with a few grand-looking entrances that get locked at night, thereby making Cambridge even harder to navigate than the average campus. (It doesn't help that the streets change names constantly: St. John's becomes Trinity becomes King's Parade becomes Trumpington Street within a couple of blocks.)
I'm staying at King's, pictured below: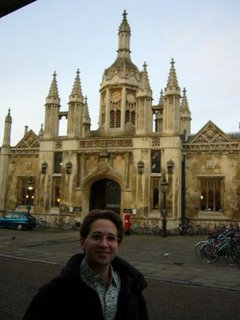 Last week my host at King's, Artur Ekert, invited me to High Table. For you non-Oxbridge doofuses, "High Table" is a fancy dinner at which people still wear robes, non-ironically as far as I could tell. Or rather, Fellows must wear robes when dining at their own college, though not when dining at a different college. (Makes sense, huh?) Afterwards, the Fellows and their guests retire to another room for wine, cheese, and academic gossip.
All these dining rooms are lined with portraits of illustrious King's alumni from centuries past — but amazingly, there's still no portrait of the greatest King's man of all time. Who was it? Let me give you a few hints. He proved the unsolvability of the Entscheidungsproblem. He was "queer" in more than one way. He had a Machine and a Test named after him. He may have played a bigger role than Churchill in winning the Second World War.
To his great credit, Artur told me that he almost threatened to resign his Fellowship if no portrait of Alan Mathison Turing F.R.S. was hung in the halls. The relevant authorities have promised to rectify the situation, though they haven't done so yet. (Admittedly, the computer help center at King's is called the "Turing Centre." One imagines Turing's ghost managing the DHCP servers, so that the real scholars can get on with their work.)
To my mind, the central question is this: did Cambridge become the world's scientific superpower for 300 years in spite of all this idiosyncratic formality, or because of it? I have mixed feelings. On the one hand, the amount of red tape here, and the importance attached to one's status, is like something out of Victorian England (oh, wait…). Fellows and their guests are allowed to walk on the grass; all others are not. Even though there's an ethernet jack right in my room, I wasn't allowed to use it, being merely a visitor. (After I complained, Artur was kind enough to give me his IP address.)
On the other hand, I like High Table and similar traditions. I like how they acknowledge and celebrate something that's always been obvious to me: that being an academic isn't a job like other jobs, but a way of life. This doesn't necessarily mean that academics have no lives; what it means is that they don't distinguish between work and life the way most people do.
Have you ever been to one of those roadside diners where you can pick an entree plus two sides, but a few of the entrees are marked "complete," meaning you don't get any sides with them? Well, at Cambridge they've understood for centuries that academia is one of life's complete entrees. Not that a Cambridge man would know anything about roadside diners.