Sorry for the inordinate delay in updating! This weekend I was busy with several things, one of which was "EinsteinFest," Perimeter Institute's celebration of the hundred-year anniversary of Einstein's annus mirabilis. The Fest is a monthlong program of exhibits, talks, etc., aimed at the general public, and covering four topics: "The Science, The Times, The Man, The Legacy." This weekend's talks were about "The Man," which is why I attended.
See, I was worried that the Fest would place too much emphasis on Einstein the sockless symbol of scientific progress, Einstein the secular saint, Einstein the posthumous salesman for Perimeter Institute. And how it could do that without indulging in the very pomposity that Einstein himself detested?
My fears were not assuaged by the many exhibits devoted to Freud, Picasso, the Wright Brothers, the automobile, fashion at the turn of the century, and so on. These exhibits gave visitors the impression of a great band of innovators marching into the future, with Einstein cheerfully in front. The reality, of course, is that Einstein never marched in anyone's band, and — like his friend Gödel — saw himself as opposed to the main intellectual currents of the time.
It didn't help either that, to handle the influx of visitors, Perimeter has basically transformed itself into Relativistic Disney World — complete with tickets, long lines, guides wearing uniforms, signs directing traffic, cordoned-off areas, and an outdoor tent for kids called "Physica Fantastica." To some extent I guess this was unavoidable, although sometimes it resulted in unintended comedy: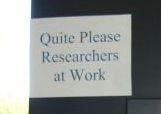 (Sorry, I just bought a digital camera and couldn't resist.)
So it was a pleasure to attend the talks on "Einstein the Man" and find that, in spite of everything, they were fantastic. We heard David Rowe on Einstein and politics, Trevor Lipscombe on Einstein and Mileva, and John Dawson on Einstein and Gödel. Partly these speakers won me over with wisecracks (Dawson: "Gödel thought he'd found a flaw in the Constitution, by which the US could legally turn into a dictatorship. In light of recent events, I don't see why anyone would doubt him"). But mostly they just let the old man speak for himself. We saw Einstein write the following to his then-mistress Elsa:
If you were to recite the most beautiful poem ever so divinely, the joy I would derive from it would not come close to the joy I experienced when I received the mushrooms and goose cracklings you cooked.
And to Mileva, during the months when he was finishing general relativity:
You will see to it: (1) that my clothes and linen are kept in order; (2) that I am served three regular meals a day in my room; (3) that my bedroom and study are always kept in good order and that my desk is not touched by anyone other than me.
We saw Einstein the pacifist urging the Allies to rearm at once against Hitler, and Einstein the secular internationalist supporting the creation of Israel. And eventually we came to understand that this was not an oracle spouting wisdom from God; it was just a guy with a great deal of common sense — as much common sense as anyone's ever had. Isn't it strange that, despite deserving to be celebrated, he is?